You needn't sacrifice autumnal oranges or deathly blacks for an-all green Halloween.
A sustainable spooky season can be just as easy and fun to achieve as a traditional one. This October 31st, treat your home to a flamboyant display of Halloween happiness, without any wasteful trickery.
Add a touch of organic mystery and mischief
Creating natural Halloween decorations is one of the most sustainable and engaging ways to achieve an eerie display, full of the spirit (and spirits) of old Samhain.
If there's a forest or parkland near you, take advantage of it: gnarled sticks and fallen leaves collected on an autumnal stroll could be used to create the mystery of a forgotten overgrown garden.
Sticks and leaves could also be incorporated into an elegant display for your doorstep.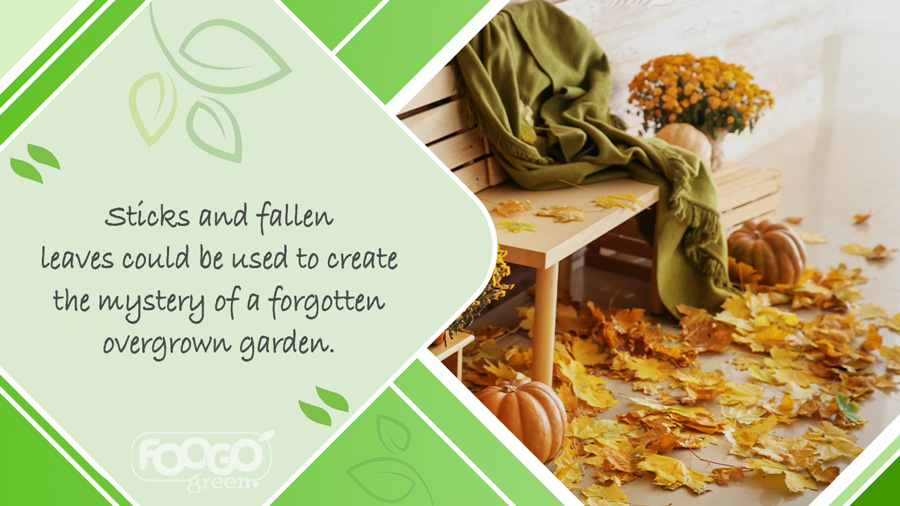 Bring the outside in
Use the prettiest (and cleanest) leaves to decorate a Halloween treat table or scatter them across the floor to evoke the atmosphere of an abandoned house.
Try extending the idea by using dried and withered flowers to decorate the house, or as the focal point for a maudlin table setting.
When Halloween is over, these decorations can go into compost or returned to the natural environment.
Recycle and repurpose your purchases
Candles can create a sinister or sublime ambience. Choose natural soy or wax candles for a more sustainable option, without containers where possible to reduce waste.
If it cannot be avoided, opt for containers made from glass as they're refillable.
Old clothes, new tricks, and tasteful treats
Make unique DIY Halloween decorations by utilising underused Christmas lights. Add a ghastly glow to an old bedsheet draped in the window, or behind red fabric or paper in the shape of a ghoulish mouth.
Old lace tablecloths can function as spiderwebs across a porch or around a room. Depending on the intended intensity, you could stuff old tights or long socks to look like pointy witches' hats, stockings, or dismembered limbs.
Transform paper and cardboard into otherworldly accessories
Paper – or compostable rice paper – can be used for versatile, recyclable Halloween decorations. Cut and colour different shapes, such as bats, spiders, skeletons, or even lettered bunting and giant spiderwebs.
Old, damaged books could also be given a new lease of life as well-thumbed magic tomes or ancient grimoires.
Cardboard inner tubes from toilet and kitchen rolls could be cut and painted to look like ghosts, pumpkins, witches, and other ghoulish creatures. Connect them with twine to make seasonal bunting.
Even cardboard boxes could come in handy, as makeshift tombstones for a garden graveyard.
Low-waste jack-o'-lanterns
It isn't Halloween without pumpkins. However, carving the traditional way contributes to food waste.
Used as decoration without carving, pumpkins can be cooked afterwards. Alternatively, carve until only the outer shell is left, compost the inedible parts, and use the edible remains for seasonal treats.
Serve food with a macabre twist
Relabel party foods and condiments in glass jars as 'potion ingredients' for delightful devilish decoration. Pickled onions could become 'eye of newt', while other herbs and vegetables could take on deadlier monikers like 'nightshade' and 'hemlock'.
Serve punch in a large bowl made to look like a witch's cauldron or a barrel of 'toxic waste'. This will reduce actual waste, while providing a whimsical centrepiece to decorate around.
Try adorning the drinks with natural wheat straws to blend in an echo of an autumnal harvest theme.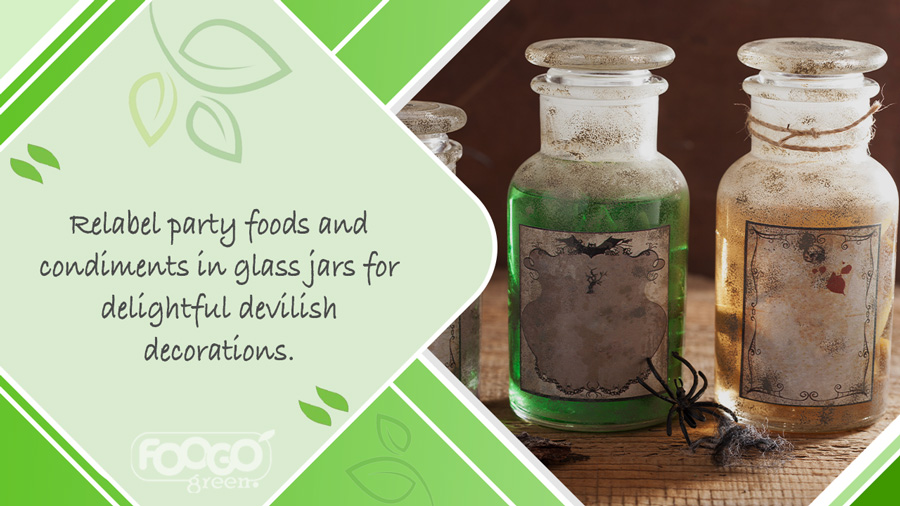 Spooky Halloween snacks
Making food yourself means zero plastic and minimal waste goals are easier to achieve.
Some ideas for party dishes include:
using wooden or metal skewers to make traditional toffee apples with homemade caramel
baking red velvet cupcakes decorated with a gory twist
decorating cookies to look like spiders and other creepy crawlies
stuffing peppers made to resemble jack-o'-lanterns
When serving food, natural and compostable palm leaf plates make for a fitting choice. Their rustic appearance fits in with the roots of Halloween: the traditional end to the harvesting season.
Making use of the items to-hand this Halloween
Creating your own decorations instead of buying them reduces waste. It also allows you to stamp your own identity on celebrations, rather than conforming to a season characterised by unethical production and poor-quality plastic goods.
We want eco-friendly hosting to be convenient, impactful, and filled with the right intentions. For quality catering options that will elevate your Halloween party plans, our range of biodegradable tableware will have you covered.