From professional to personal events, small changes that take the environment into consideration can help.
Swapping single-use plastic items for natural products is one of the easiest and most effective ways to reduce your environmental footprint.
Eco-friendly sandwich platters
Instead of the usual plastic or aluminium trays common at business meetings, compostable palm leaf serving trays make an attractive upgrade. Pastries can be laid out before a seminar on rustic platters, durable enough to be wiped clean and reused for sandwiches at lunch.
Introducing compostable serving platters into the workplace can establish eco-friendly initiatives and foster mindful use of resources.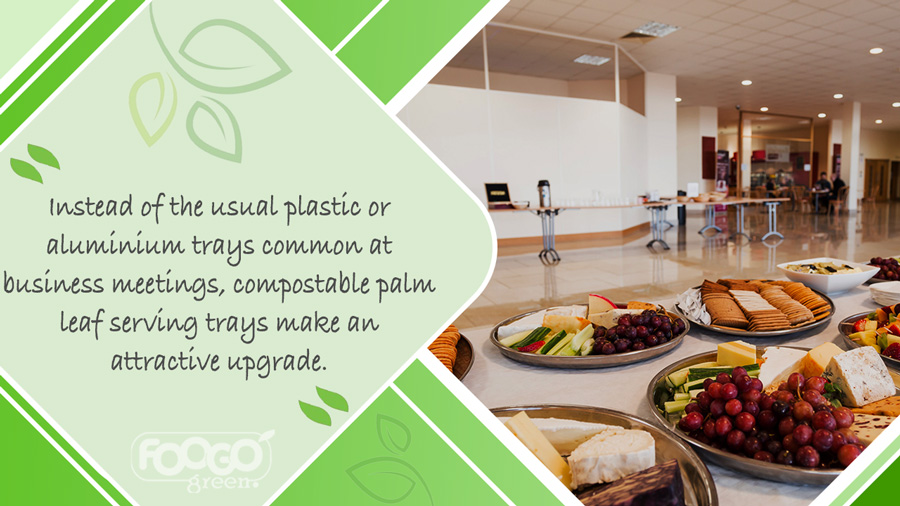 Eco snack bowls
More casual events can also benefit from palm leaf tableware. Bowls brimming with pretzels and crisps spread out on tables at charity quiz nights, for example, can help to fuel guests' brainpower.
The natural look of palm leaf bowls means they fit easily into any décor, drawing the eye without being distracting. They hold hot food, and oily snacks like cocktail sausages or onion rings won't affect their durability.
Biodegradable disposable straws
A chic bottomless brunch for a hen do or birthday party is in vogue, whether in the back garden or as a professional event. Decorating cocktails with compostable wheat straws adds sophistication to any eco event; the natural look fits particularly well with a Bloody Mary.
As wheat straws are by-products of wheat harvests that previously went unused, they are already sustainable items. When done with, the straws can go straight into compost.
Naturally gluten- and chemical-free, wheat straws won't leach anything unpleasant into drinks. They also won't fall apart if exposed to alcohol, as paper straws tend to.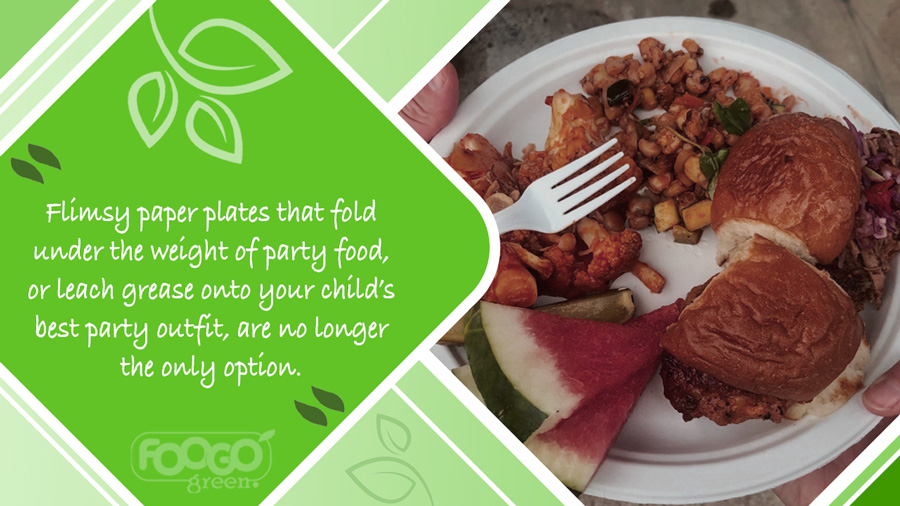 Compostable disposable tableware
Flimsy paper plates that fold under the weight of party food, or leach grease onto your child's best party outfit, are no longer the only option. Biodegradable disposable tableware made from palm leaves is more robust, even under greasy or wet food.
Sustainable disposable cutlery
Vendors and organisers at music festivals can make a big impact by supplying natural, compostable cutlery instead of plastic.
As pictures from the aftermath of some festivals prove, not all attendees can be relied upon to be responsible with their rubbish. However, if cutlery is compostable, it's less destructive if littered.
Every effort should still be made to properly dispose of compostable cutlery. Organisers can help by creating their own compost heaps, instead of bins. Compostable cutlery and food waste from festivals can then create 'positive' waste and demonstrate to festivalgoers the environmental impact of their actions.
Biodegradable bowls
A large compostable bowl can form the perfect centrepiece when filled with an eye-catching display of fresh fruit. Paired with healthy refreshments, like smoothies adorned with reusable bamboo straws, it underscores a sense of mindfulness that synergises wellbeing with environmental awareness – the perfect complement to a yoga or meditation retreat.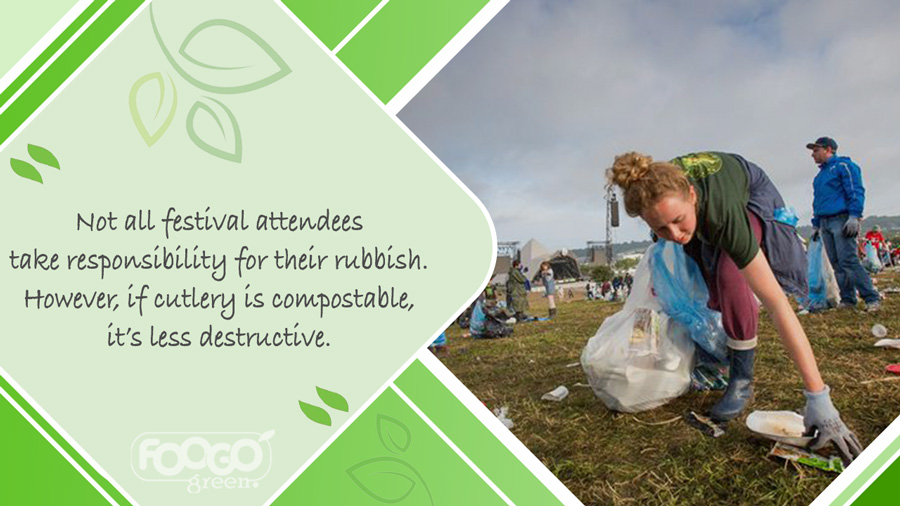 Other small changes to reduce your footprint
Before your event begins, you can reduce paper use by sending out electronic invitations.
To improve sustainability when planning large-scale events, check the ethical practices of venues and suppliers before hiring.
Adding recycling processes, offering group event transportation, and filling fabric swag bags with sustainable gifts, like reusable bottles and straws, all improve sustainability.
Stylish sustainability
The versatility of palm leaf tableware and natural birchwood cutlery means any event can benefit from sustainable products, without sacrificing on style. Introducing guests to the ease of eco-friendly event planning can arm them with ideas to reuse at their own green events.
FOOGO Green's palm leaf tableware does not rely on deforestation as part of the manufacturing process. Our products are strong and reliable, and free from any kind of chemical treatment.
Party packs allow you to cater for large groups with ease, ensuring you don't forget any essentials.
If you're looking for more sustainable event ideas, our blog contains many useful suggestions – ranging from planning a birthday party to going on a camping trip.
When the time comes to equip your venture, take a look at the complete range of eco-friendly catering accessories on offer in our online store.