Sitting out on the beach with a group of friends, with refreshing drinks and snacks keeping you cool in the sun. It's something we all looking forward to when summer approaches.
It's important to find ways to celebrate by the sea without polluting it. Ensuring your beach food consumption doesn't end up as litter is an important part of this responsibility.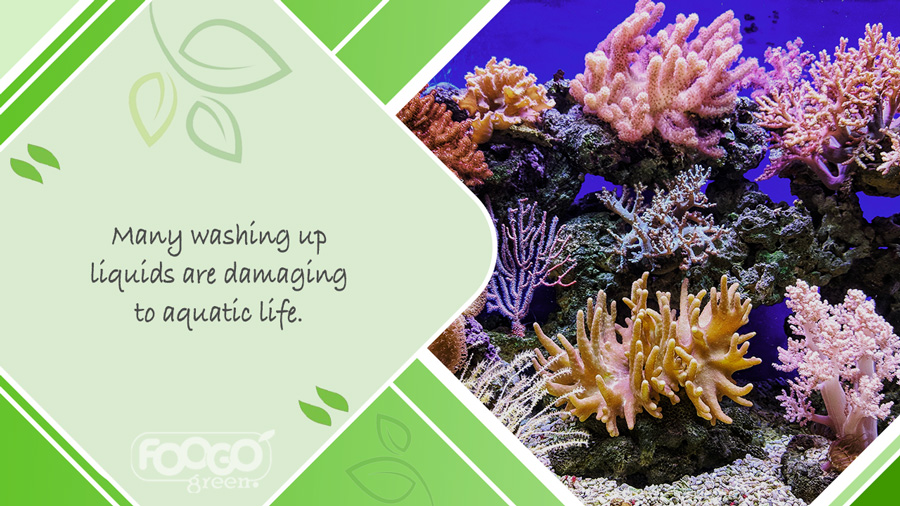 Plastic-free picnicking
Compostable tableware
Made from palm trees, palm leaf tableware brings a little tropical island paradise to even the greyest British coastline, enhancing any maritime theme. Sturdy, free from chemicals, and 100% compostable, palm leaf plates can cater to any beach party, and then taken home to contribute to nutrient-rich compost.
Many washing up liquids are damaging to aquatic life. That's something you don't need to worry about with compostable tableware and cutlery.
Dishes to complement your disposable plates
Sandwiches are a staple seaside food. Opting for vegetarian fillings like houmous, falafel and feta cheese helps to avoid any risks associated with meat warming in the sun once served. Make them wraps to protect the sandwich contents from sea breezes that often 'season' your food with sand.
For a nautical twist on traditional high-energy snacks, make flapjacks shaped like starfish or ships. Equipping each guest with their own palm leaf plate helps catch crumbs and keep gulls away from your eating area.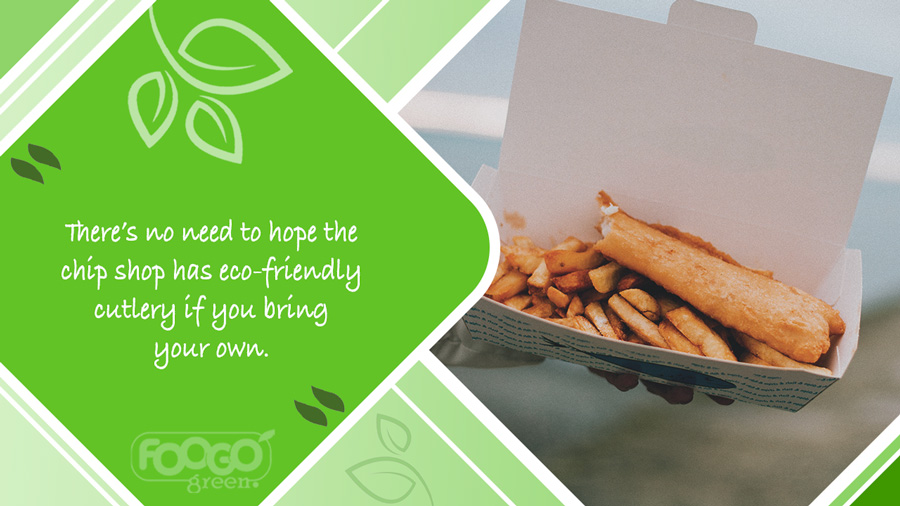 Sustainable seaside takeaway
Compostable disposable cutlery helps make any beach party more sustainable, whether catering for yourself or enjoying traditional British seaside fish and chips.
There's no need to hope the chip shop has eco-friendly cutlery if you bring your own. Birchwood cutlery is also sturdier than its plastic counterparts, so you won't have to battle a bendy knife or broken fork prongs in your food.
Filling small dipping bowls with sauce from home, and covering with beeswax wrap, saves you from using non-recyclable sauce packets.
Big bowls and serving trays
Slices of mango, pineapple, watermelon, or other tropical fruit served on palm leaf platters create a colourful display that's healthy and revitalising during a long day in the sun.
Palm leaf trays are also useful for beach barbecues; set aside cooked food people can serve onto their plates, while you grill another helping.
Large disposable bowls have many uses. For a simple beach trip, something high in carbohydrates like a potato or pasta salad keeps you energised for swimming, surfing, or beach cricket. Using a tomato, pesto, and mozzarella pasta salad recipe, instead of relying on mayonnaise, will help it to last longer on a warm day.
All our palm leaf tableware is resistant to oil and liquid from food, even acidic fruits like pineapple won't cause them to lose their shape, bend or break. They can even be cleaned and reused should you desire.
Disposable straws
Coconut water is highly refreshing and can be transported from home in reusable bottles to keep you hydrated throughout the day. Serve that – or perhaps homemade piña colada mocktails – into guest's cups. You can use strong reusable bamboo straws to serve Caribbean-style drinks that warm up any party.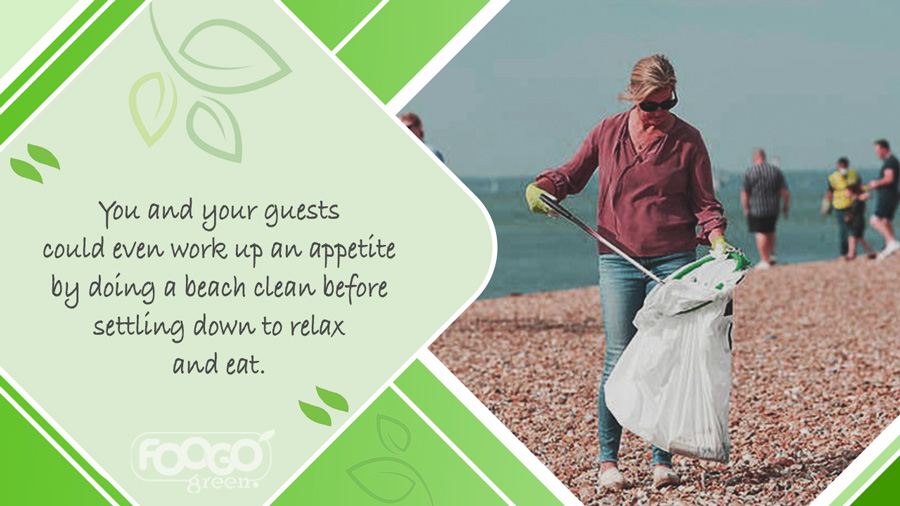 Party responsibly
You and your guests could even work up an appetite by doing a beach clean before settling down to relax and eat. Of course, it's also important to make sure you clean up after your own party, to leave the area safe for the next guests, whether human or animal.
Being responsible and sustainable means taking extra steps that aren't always as convenient as modern consumerism may allow. Home composting, and thinking a little longer about what you're buying, can be fun and rewarding. It's a small price to pay for a cleaner ocean.
If you're taking a portable barbecue, our post on disposable plates for a BBQ has more ways to put our range to use.
If you head over to our blog, you'll also get to see the versatility of palm leaf tableware when used for other events, such as camping trips or birthday parties.