Planning a successful party can sometimes be overwhelming. Trying to make it plastic free could just add to the stress. But with the right options and a bit of determination, it doesn't have to be.
Below, we've provided some examples of how mindful selection of tableware choices can make any party plastic- and guilt-free. Join us as we kick off a fun evening with friends; making use of the environmentally friendly options FOOGO Green has to offer!
Welcoming arrivals while reducing waste
As your first guests settle in, why not offer them a drink? Plastic straws are out, so serve those cool refreshments with disposable wheat straws nestled in each glass.
Unlike paper straws, wheat straws won't absorb the liquid and break apart. They're made from naturally water-resistant material and are gluten-free, so guests with a wheat intolerance or allergy can enjoy a drink without any concerns.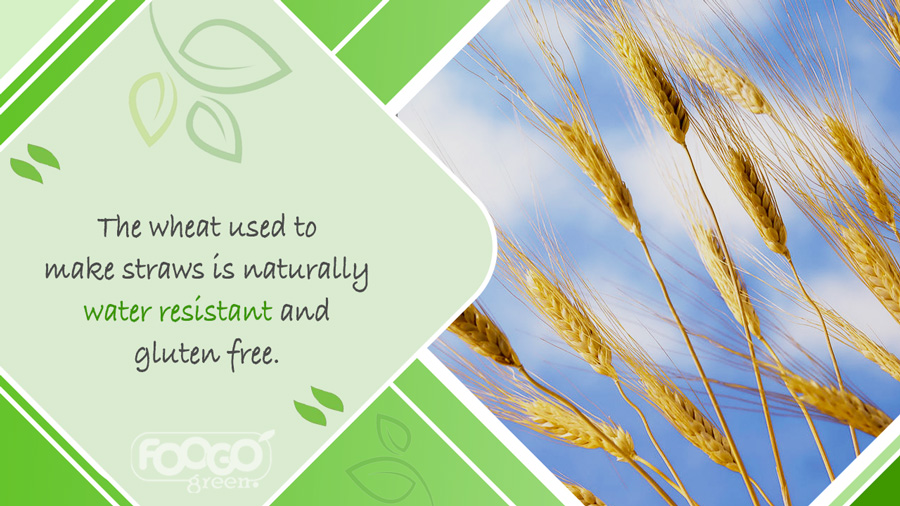 Serving food with plastic-free disposable utensils
Easy-reach starters in eco-friendly bowls
Once your guests are refreshed, it's time for an entrée or two. Something light and crunchy is always popular, so a bowl filled with nuts, crisps or other nibbles could do the trick.
A deep palm leaf bowl is perfect for this scenario, and will create an irresistible display. Paired with reusable dipping bowls you'll have a flexible tableware set to match any occasion, whether it's a crisps-and-dip number or a more formal soirée.
Serving meals with single-use substitutes
With the starters done, the main courses can be served. If you really want to create an impression out of the gate, spread out your food selection in beautiful, biodegradable serving platters . With a variety of different-shaped trays available, you can match your tableware with your event and what works best for your space.
Palm leaf platters are durable and versatile enough to take the place of traditional tableware. Their unique appearance also provides an excellent talking point with your guests.
Large reusable dishware for salads
The perfect centrepiece to any evening buffet is a crisp salad, bursting with colour and nutrition. Your guests won't be disappointed by the appeal of fresh lettuce and rich, ripe tomatoes presented in a palm leaf salad bowl . You can even use them as mini ice buckets for drinks at outdoor events or parties.
All palm leaf tableware is safe to put in the freezer (as well as the microwave) so they're completely safe to hold ice. You can rely on them not falling apart when holding liquid too.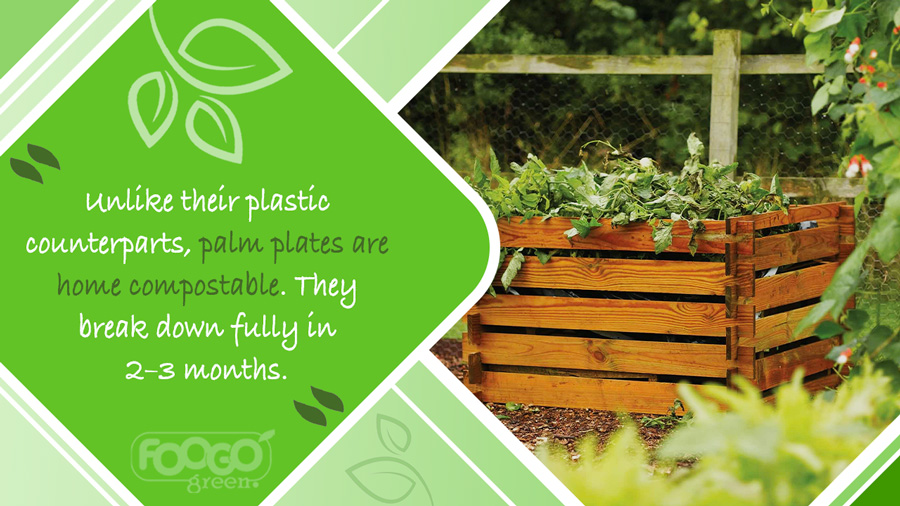 Avoiding plastic waste when plating food
When the main courses are served, guests can collect their plates and tuck in or take their place at the table.
Disposable palm leaf plates are the perfect option for any food types, textures and temperatures, and can be wiped down and reused easily. They're also microwavable and freezer safe – perfect for leftovers and take-home treats!
Anxiety over breakages is eliminated with palm plates. Even if they are somehow damaged or rendered unusable, there's no need to feel guilty about the pieces ending up in landfill. Unlike their plastic counterparts, palm plates are home compostable. They break down fully in 2–3 months.
Plastic cutlery is a thing of a past
For more relaxed buffet-style party, save on the plastic waste with biodegradable cutlery . Birchwood knives, forks, and spoons can be laid out for guests to grab when they need them. They fit perfectly with the aesthetic of palm leaf tableware, helping to lend a rustic charm to events.
Birchwood cutlery is completely free of sealing agents or chemicals, the wood is naturally splinter-resistant, and after use can be composted along with the used tableware.
Dishing up dessert in environmentally friendly bowls
Once the main course is cleared away, the time will be ripe to unveil everyone's favourite course: dessert! Dessert bowls made from palm leaf are a durable solution for spooning out after-dinner treats. Guests won't have to hold back on the sticky toffee sauce, hot fudge or oodles of cream!
Unlike plastic disposables, or even bamboo alternatives, palm dessert bowls don't run the risk of leaching any chemicals (like BPA or binding agents like melamine) into your food.
If anybody has any room left at all, finish by wiping down and reusing the serving platters as a base for a rustic cheese board. Your guests can nibble away as you relax into the evening.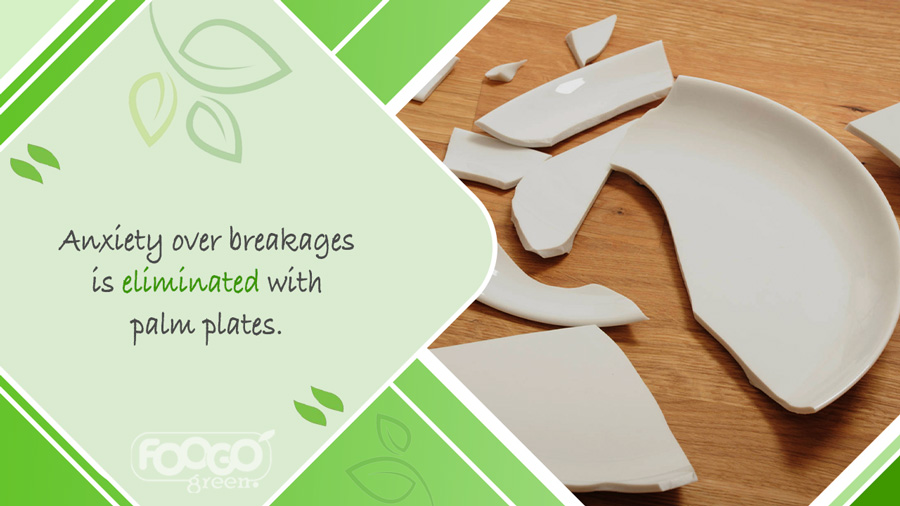 Eco-friendly party favours
As guests begin to take their leave, send them off with a memento of the evening, such as reusable bamboo drinking straws to use at home. The next time they have a drink it will remind them of the alternatives to plastic. It may even provide inspiration for their own party!
Cleaning up made easy with disposable tableware
Once everyone has gone, you won't need to add a mountain of washing and drying up to your to-do list. Just collect the platters, plates and bowls and pop them into a compost bin. There's no need to wipe them clean as the food waste will decompose. You'll have more time to sit down with your own congratulatory beverage and reminisce on a wonderful evening of successful hosting!
Waste-free party inspiration
Need more information on eco-friendly, reusable tableware? Take a look at our featured article on palm leaf plates , which details the manufacturing process and benefits of this alternative to disposable plastic and paper tableware.
To see our complete range, visit our online store. You can also order samples if you're unsure , or need to convince someone whether the products will be a good fit for their event.