Reducing waste to make a positive environmental contribution is a challenge that can be met by making a few simple changes. For your catering business, the easiest way to achieve this is by switching from paper or plastic to biodegradable catering supplies.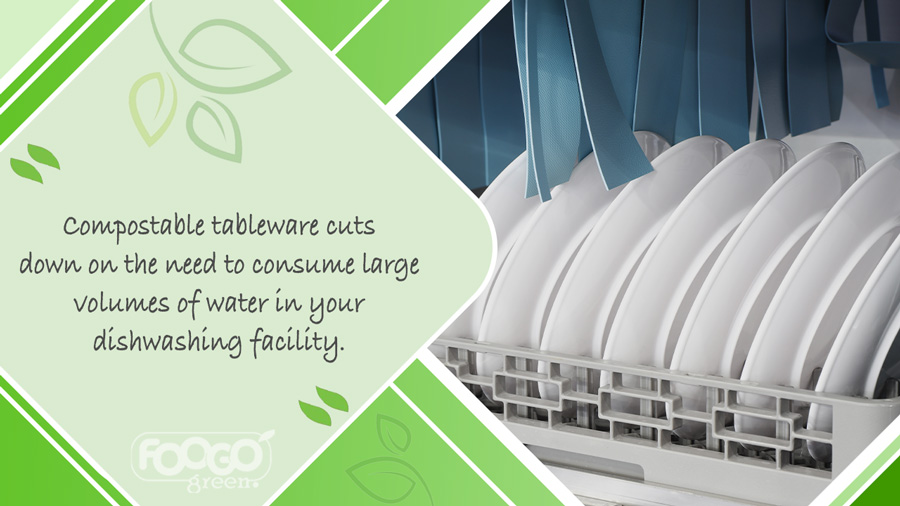 Introducing compostable tableware to your catering business
Making use of environmentally friendly tableware that can be left to decompose harmlessly after use, brings a range of advantages both for your business and your customers.
Instead of collecting used food and plates for landfill disposal, or relying on customers to behave responsibly, biodegradable tableware can just be composted.
Having a compost bin at events or your regular venue can be an engaging way to generate discussion among your patrons about mindful consumption. It also makes disposal of food waste generated by your business processes greener and simpler.
Catering businesses consume a lot of water in their daily running. Compostable tableware cuts down on the need to consume large volumes of water in your dishwashing facility – saving money on energy and water bills.
Palm leaf tableware: a versatile plating solution
Areca palm leaf plates, bowls and trays are ideally suited to use as an alternative to traditional crockery, plastic, or metal dishes. Durable, natural, and reusable, palm leaf tableware is made using an industrial waste product that is easily renewable and safe to use with hot and cold foods.
Palm leaf disposable plates
Disposable plates are often associated with cheap looking paper or plastic. However, palm leaf plates are attractive, subtle, and make a credible alternative to upscale, designer crockery.
In addition to being aesthetically pleasing, they are also sturdy and functional. The plates can be cleaned and reused if required. Customers who take them away can choose to use them again at home, or dispose of them in their home compost.
Disposable compostable bowls
For seaside vendors, there's nothing worse than noticing plastic pollution in the sea and worrying about contributing to it.
Switching to completely compostable palm leaf bowls eliminates that worry. Even if it finds its way into the sea, a bowl will break down without leaching chemicals or causing significant damage.
As palm leaf tableware is durable enough to be cleaned and reused, you could keep large salad bowls from other events that you would no longer use for food and have them as collection points for used cutlery and dishes, ready to compost together.
When packaging takeaway orders for customers, why not forgo polystyrene sauce pots and pop a small dipping bowl filled with sauce and covered with aluminium foil into the order instead? This creates more sustainable takeaway packaging without changing the ease or convenience.
Compostable serving trays
Palm leaf platters can be used instead of conventional trays to serve drinks from pub gardens to wedding drinks receptions.
Perfect for tapas or similarly styled 'grazing' options, when combined with palm bowls containing multiple delicious offerings, the trays can be used to collect discarded shells or other extras as customers eat.
Other useful compostable consumables
Birchwood cutlery
Even catering outlets that don't tend to serve tableware, like traditional fish and chip shops, will usually need cutlery.
Birchwood cutlery is a good disposable option, due to the sustainability of the wood. Birchwood grows faster than other trees so less space is cleared for growing and it's easily replaced.
Birchwood is also naturally splinter-free, eliminating the need for harmful chemicals or processing to make the wood safe for use. Once used, birchwood cutlery can be composted at home.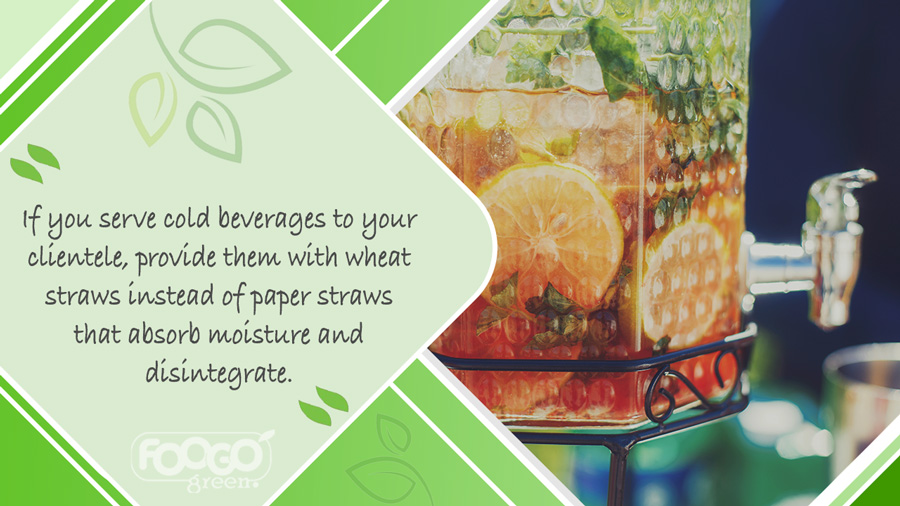 Disposable drinking straws
Wheat straws
If you serve cold beverages to your clientele, provide them with wheat straws instead of paper straws that absorb moisture and disintegrate.
Wheat straws are completely compostable and naturally gluten-free. They look good in cocktails, but will equally be appreciated by someone sipping cola or orange juice in a pub garden.
Bamboo straws
Smoothies, milkshakes, and hot chocolate drinks require wider straws to enjoy them to the fullest. Reusable bamboo straws come with a brush to make cleaning easy, for any straws that make it back into the kitchen.
Made from cut bamboo shoots, bamboo straws don't contain harmful binding agents. They are 100% natural and compostable.
Letting customers know they can keep the straws to reuse, particularly if serving in their own reusable cup, provides a green incentive and a little food for thought with their purchase.
At FOOGO Green we're passionate about contributing to a greener world, one event at a time.
When you are ready to make the switch to compostable catering supplies, our online store is fully resourced with a range of items at competitive pricing. We provide trial samples for you to test and can supply orders in bulk at a reduced per-unit cost, specifically for clients looking to buy wholesale.
For more information about improving sustainability in catering, our blog archive is a useful source for ideas. Take a look at our posts on sourcing eco-friendly event supplies or eco-friendly tasting spoons for the restaurant trade.